Event Postponed until the current global lockdown is lifted and international travel has resumed.
Until then stay playful and keep growing!
As we reemerge from this unexpected global happening we have a unique opportunity to begin again. To Dance Forward.
Date And Time
Fri, 31 Jul 2020, 5:00 PM –
Mon, 3 Aug 2020, 12:30 PM PDT
Rights of passage, letting go of the old to invite in the new, rebirth; these are all ancient themes, nothing new. What is unique in this exquisitely timed year of 20/20 is the opportunity to do so collectively and consciously after a long period of isolation from one another. Drawing on this potent alchemy of circumstances we will at long last gather once again!  Dance, music, art and ritual will be our medicine.
Join us on the shores of mystical Kootenay Lake as we dive into a movement and nature based inquiry for 4 days of dance, community, good food and unexpected insights which will shape our emergence. Join us as we Dance Forward!
Dance Forward is an all-inclusive retreat:
18+ hours of programming including lots of dancing and outside time
3 nights accommodation of your choice
8 wholesome delicious meals plus tea/coffee and snacks
Full access to The Sentinel Spa area (Cedar-lined hot tub, cedar sauna, outdoor deck overlooking the lake),Beach access (700 ft of lakefront),Decks, patio and 20' picnic table and an indoor lounge area.
PLEASE NOTE: We have capped the number of participants at 25 in order to stay sensible and sensitive to the reality of the ever-evolving covid situation. We will do our best to maintain social distancing and precautionary measures whenever possible HOWEVER the nature of dance is one which can not ensure 2 meters distance at all times. We will not be requiring the use of masks as it is not realistic or safe to attempt this while dancing. If you are quite concerned with these measures we encourage you to postpone dancing with us until a later date.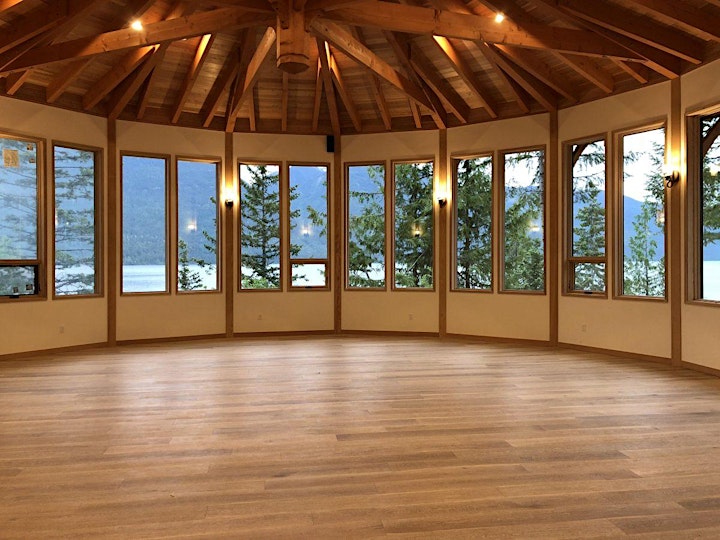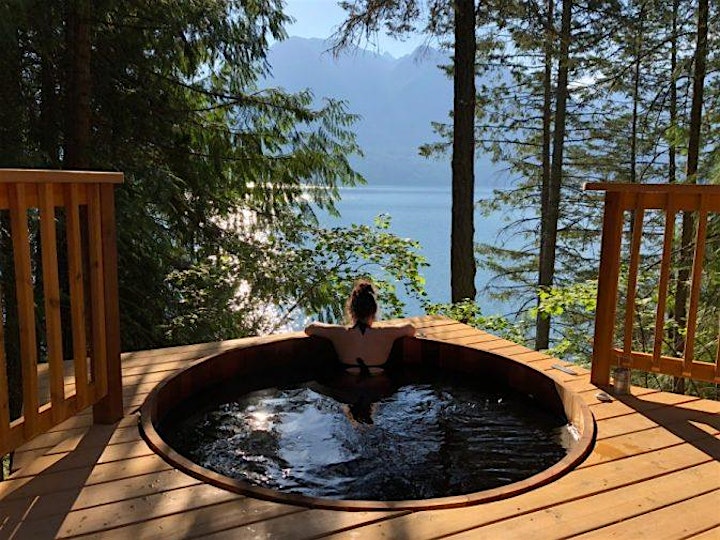 RETREAT LEADER
Bernice Raabis (Founder of Dance the Medicine)
Here in the Kootenay Mountains Bernice ran 2 weekly events for 8 years. Dance Church, her hugely popular event, saw a multi generational community come alive in the dance each Sunday morning! On Wednesday evenings she facilitated Dance The Medicine, a class based on a combination of; Soul Motion, Movement based Expressive Art Therapy, and Somatic Therapy. In 2016 she began to teach abroad, organizing and teaching trainings and events with both Ecstatic Dance International and Dance the Medicine; two companies she founded with the intention of teaching dancers the skills they need to create dance communities of their own. She is on a mission to infect the world with dance in hopes that everyone everywhere will one day have a place to dance in community. She believes that when we dance together we find a common language of respect without words getting in the way; 'When we dance together we have a much more difficult time going to war with one another'. Currently the world pandemic has put her International work on pause.  She is taking the time to return to her roots and the community which helped Bernice birth her career. Dance Forward is a multi-modal dance retreat using dance, music, ritual, art, and journaling to access new information about yourself and how you want to choose to move forward in your life and in the world.
RETREAT CENTRE: THE SENTINEL
Located in the heart of the soaring Purcell Range and on the edge of picturesque Kootenay Lake, The Sentinel is a peaceful place, a place to recharge and reconnect. Amplified by the dynamic snow-capped peaks, this destination retreat centre invites you to breathe in the therapeutic serenity of Mother Nature. Their mission? Nothing less than 'to realize the full potential of humanity'.
PROGRAM EXAMPLE
9.00-10.00 Breakfast
10.30-12.30 Dance Class/Workshop
13.00-14.00 Lunch
14.00- 15:30 Free Time
15.30-17.30 Nature Ritual
18.00-19.00 Dinner
20.00-21.30 Dance/Bonfire
ACCOMMODATION: 3 NIGHTS
We offer different types of accommodation to suit your needs:
Private room with private bathroom
Semi-private room (2 beds) with private bathroom
Dorm (4 beds) with shared bathroom
Camping or off-site accommodation
If you choose shared or dorm accommodation you will be placed with friends/family whenever possible HOWEVER you may be placed with another participant whom you do not know. Please take this into account when choosing your accommodation. Contact us with any questions.
FOOD: 8 MEALS
All meals are included (from Friday supper to Monday breakfast). The meals are organic and local whenever possible. Our menu is low gluten with vegetarian options and will be prepared onsite by our amazingly talented chef Andria. If you have any dietary restrictions or allergies, please let us know when booking.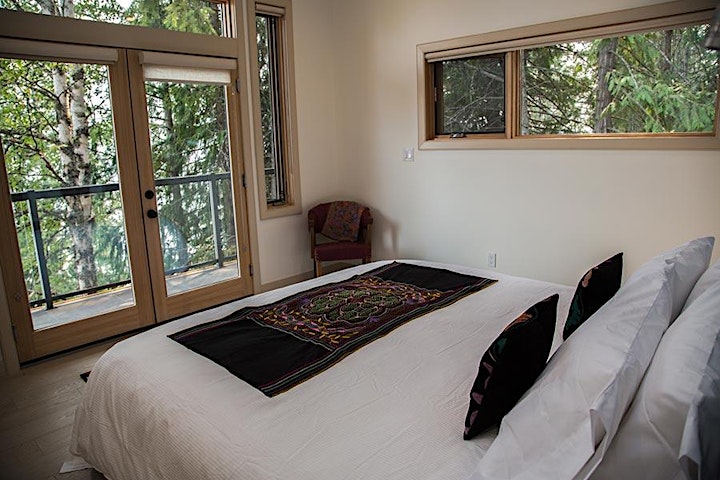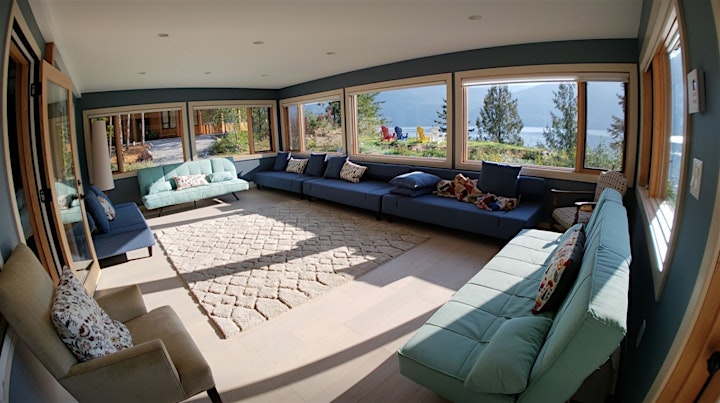 ARRIVAL & DEPARTURE
We ask participants to arrive between 3-4 pm on Friday July 31 to allow time to check-in and settle in before we start. The retreat will start at 5 pm.
The retreat will end at 12:30 pm on Monday Aug 3.
PRICES (including all food, accommodation and programming)
Camping/off-site accommodation $850
Dorm (4 beds) w. shared bathroom $970
Semi-private room (2 beds) w. private bathroom $1,190
Private room w. private bathroom $1,370
PAYMENT
Non-refundable $150 deposit is required to book and secure your place. Balance due via e-transfer by July 10. Payment details will be emailed to you upon registration.
ADDRESS
5278 Amundsen Road, Kaslo, BC V0G 1M0 Canada
+1 (250) 353-2246
(approximately 10 minutes south of Kaslo and 50 minutes north of Nelson.)
DRIVING INSTRUCTIONS
From Nelson:
8-10 minutes from Ainsworth Hot Springs, you pass Twin Bays Road on the right, after which you pass the turn off to the 'back road' – to your left. There is a lookout on your right on the main hwy, just before descending the hill with two lanes on the lake side. Just after starting down the hill, keep to the right lane as Amundsen is on the right very soon. Take your time with this turn, as you will make a full 180 on to Amundsen, which will be a hill going down. At the bottom, as you meet the road that runs parallel with the lake, the entrance is directly in front of you – drive straight onto the property.
From Kaslo:
Drive past Mirror Lake and after a few windy bends, the road straightens out into a hill going up, with two lanes on the lake side. Amundsen Road is about a third of the way up the hill, just before the lookout, and will be on your left. It is a hill going down to the lake and at the bottom, as you meet the road that runs parallel with the lake, the entrance is directly in front of you – drive straight onto the property.
From Castlegar Airport:
Budget has rental cars at the airport. Or if you prefer, we can arrange a Sentinel shuttle for $75 per person, one way.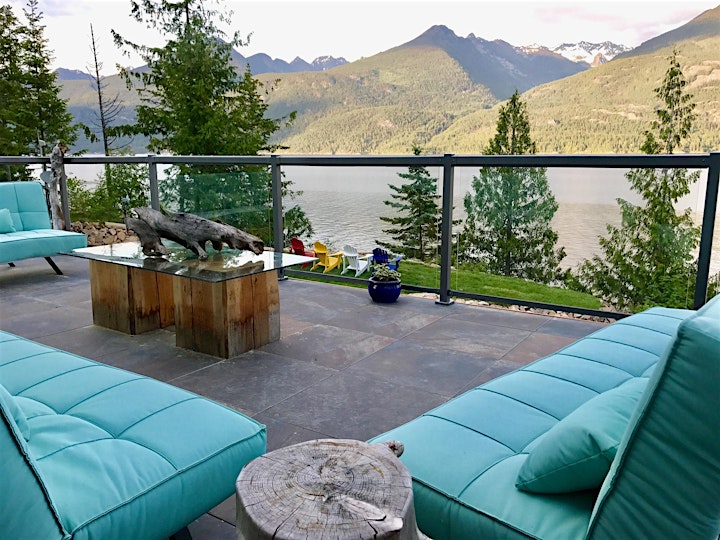 CONNECT
Any questions? Send us a message or email us: bernice@dancethemedicine.com
Helps us spread by the word by RSVPing and inviting your friends and family on Facebook: (link)